According to the North American Insulation Manufacturers Association (NAIMA), 90 percent of single family homes in the US are under insulated. Homes lacking the proper amount of insulation will be harder to cool in the summer and more difficult to heat in the winter. Humidity can also be a challenge with uninsulated attics.
If your home is uninsulated-or under-insulated-you may notice that it takes longer for upper-level bedrooms to cool down during warm weather. A wide fluctuation in temperature between your first and second floors is also a sign that more insulation is needed. Adding high-quality insulation in the attic will help to regular indoor temperatures, particularly to those second-floor rooms, where warm air travels naturally.
Not installing insulation in your home can lead to higher energy bills as well. Leaks or drafts around windows and doors and uninsulated attics can cost you money each month. According to the Environmental Protection Agency, homeowners can save an average of 15 percent on heating and cooling costs by cutting out those drafts and insulating important areas like your attic
Dick's Roof Repair is here to help! We've been keeping  Kenosha, Racine, Oak Creek and Franklin comfortable for 60+ years. We are offering a special through March 2020: our technicians will install R-19 grade insulation in your attic for only $725 (up to 1,000 square feet; offer expires March 31, 2020). Our qualified technicians use 100% Fireproof Blown-In Cellulose Insulation, so you can rest assured that this product will last. Don't wait to schedule your service appointment-contact Dick's today!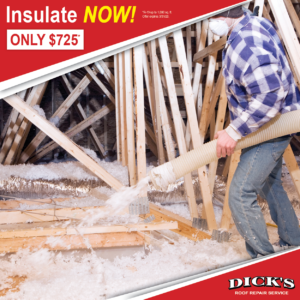 Source cited: https://www.ars.com/blog/the-benefits-of-insulating-your-attic